"Now That You Don't Have to Worry About Winter…"



Now that you don't have to worry about your pet getting salt stuck in its paws or being electrocuted by a sidewalk grate, you may think it's safe to let your cat go outdoors. Not such a good idea if you want your cat to live as long as possible.
For starters, New York vet Dr. Linda Jacobson warns that, "Fleas are everywhere -- including in the city. Outdoors as well as in. And cats who go out or live with dogs who go out are also at risk for exposure."
She adds, "We used to think that Manhattan was almost 100% heartworm free. But the coyote that visited Central Park several years ago had heartworm. Now it appears there's no area that's heartworm disease free in the five boroughs of NYC."
Letting your cats outdoors exposes them to many perils
Jane Hoffman, President of the Mayor's Alliance for NYC's Animals, spells it out.
"Letting your cat outdoors exposes him or her to a range of perils that can result in injury or death. Cars, diseases, attack by other animals, poisoning, and ill-intentioned people all put your cat at unnecessary risk. And what's more, cats can easily become lost and unable to find their way home."
Hoffman urges cat owners to keep their cats inside, and further, to have them microchipped so that if they do get outside by accident, they will have a better chance of being reunited with their owner.
Indoor cats have longer healthier lives
Dr. Louise

Murray, VP of ASPCA medical hospital agrees.
"Cats kept exclusively indoors live longer, healthier lives than outdoor cats. If you allow your cat to go outside, he might come into contact with wild animals who carry parasites and disease, as well as other outdoor [feral] cats who may fight with him, greatly increasing his risk of getting feline leukemia virus (FeLV) and feline immunodeficiency virus (FIV). Your cat might also be exposed to poisonous substances like lawn chemicals, antifreeze and rat bait.
Because of these and other dangers awaiting the outdoor cat, it's estimated that a cat allowed outdoors in the United States lives an average of one quarter as long as a cat living exclusively indoors. Keeping your cat indoors is the best way to prolong his life."
Murray sees it this way, "Cats are like a six year old child. You wouldn't let a six year old go out unsupervised, would you?"
Of course, cats don't understand that they're safer staying indoors and may insist on going out. Cat harnesses and leashes may be the answer for both of you.


Jake, Eliot Tuckerman's orange tabby was a happy confirmed indoor city cat. He lived in a loft and loved it. Then Tuckerman started going to Westchester on weekends. Jake sat in the window of the house all the time. "He was diabetic so I was afraid to let him out, Tuckerm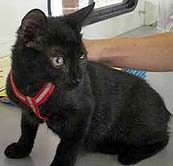 an said. "But he really wanted to go out so I got him a leash and harness and we'd go for a walk for about 20 minutes every afternoon. It's a great memory I have of him.




(Tavi's little MIDNIGHT is an indoor-only cat, but he is accustomed to walking on a harness and leash, which his foster mom got him use to. Stop by our Petco-Bay Shore Adoption Center to meet Midnight.) .

Warm weather can bring other hazards for pets.

Like keeping a window open so your pet can enjoy summer breezes. Unfortunately, that's how some cats get out by accident.
Ledges, porches and balconies are trouble waiting to happen for

cats. Trouble you can protect them from by installing secure, sturdy screens in all your windows.
If you live outside of the city you might think it's safer to let your cat out.
Not so, says Manhattan vet Dr. Patrick Cotter, DVM.
"Cats shouldn't be allowed out loose, especially unsupervised. Only bad things can happen to them outdoors with very little upside.
What are some of the risks? They can get hit by cars, attacked by dogs, coyotes, raccoons and other unfriendly cats, get poisoned or kidnapped and are at risk of cat hating neighbors."
Protection and Microchipping is key
Cotter adds, " Vaccines have to be current, too. It's easy to protect them from internal and external parasites and some of the more dangerous diseases they can get, but if they're out on their own, all sorts of unknown accidents and maladies can affect them. "
Indoor cats can live much longer that their outdoor comrades. But they may not be getting as much exercise and it's our job to keep their lives interesting and active.
Dr. Louise Murray also cautions cat owners "If cats go outdoors they may also need protection against feline leukemia virus, which they can get from close contact with another cat."
Manhattan and Easthampton vet, Dr. Mike Marder suggests owners enrich their cat's lives by hiding their food in toys or different places so they have to "hunt" for it.


But, wherever your cat is, he or she needs identification … collars with an ID tag and a microchip identifying the owner, phone number and address. All the information your cat needs to get back home to you. In New York, all shelters and most vets have scanners that can check a pet to detect a microchip.
If you think your cat doesn't need a collar or a microchip, think about all those posters on lampposts and in vet's offices, in the paper and on the internet, about a lost cat. The only thing a microchip won't protect your cat against is being snatched up by someone who thinks your unidentified cat is a stray or attack from other animals and people. Which is something you won't have to worry about if you keep you cat safely indoors.
But what if you've got a cat that just won't stay indoors?
Dr. Jiu Wen, DVM of Hampton Veterinary Hospital concedes, "Sometimes you have no option. A cat may keep finding ways to sneak out. So be sure they are up to date on all shots, including leukemia and rabies and have stool tests twice a year to check for parasites. Use protection against fleas and ticks too and don't forget microchipping, as cats are likely to roam.
The bottom line is, cats will be cats; the best we can do is protect them from themselves.